Jawa page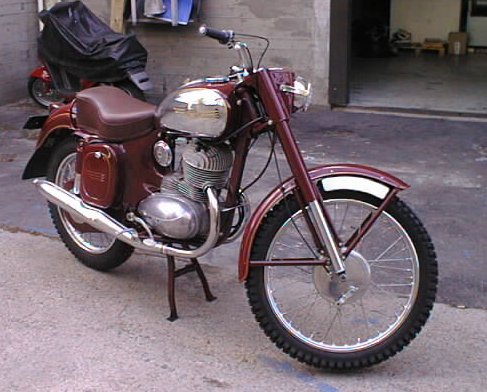 Jawa 250 Six Days. Purchased from this smilin' man.



Here is a 350 Six Days Twin.

CZ 150 cc about 1953

Clean engine

That's all on the clock

Jawa 350 Perak
top restauration

Look at the expression on Mr. T.'s face. He is a known
authotrity on Japanese bikes. Why does this Eastern bike look better that those Far Eastern ones.

Jawa 350 Perak to be restaured

Jawa motorcycle and moped parts

It is a Deluxe model - chromed hub
Jawa had a big market for their Six Days models in Finland in early 60's. They did sell quite similar military model to Finland and Sweden.
In the fifties people did not have so many cars and some of the roads were not that good, either. Forest and construction workers had to get to sites, were motorcycles were the only transportation. Sydney Olympics Shot putting Gold Medalist Arsi Harju was interviewed about his bikes (people in his small town got him a Harley) and 15 tractors etc. He was asked why he has nine Jawas among the more valued bikes. He told that Jawa had such great meaning for development in Finland in the fifties.
By the way he did not let the journalist too see his motors.
In late sixties the market for Jawa died. Jawas and MZ's had been quite inexpensive and they could be bought without hard currency. After the WWII many countries were lacking foreign currency, Finland was one of them. You had to get an import license for vehicles and you had a quite long waiting list. East European products were easier to get since their money was not worth much. West European tourists traveled to Soviet Union and Soviet block countries, where you could get a lot of vodka and beer for a pair of jeans. In Leningrad (called now again Sankt Petersburg) the Finnish tourists were called "Finski furistj - Vodka turistj"

In the fifties and early sixties not all Finns knew English that well. So the Sixdays model was often called Sixten, having the name mixed with Swedish cross country skiing champion Sixten Jernberg. Today 100 % of Finnish kids learn English at school. That is the highest figure among EU (European Union) countries. In Sweden the figure is something like 99%, in Italy it is lowest at 78% (not too bad, either)

Later, mopeds replaced motorcycles as the inexepensive method of transportation. Also, later you could forget about motorcycles as any inexpensive method of transportation (see that Ducati page).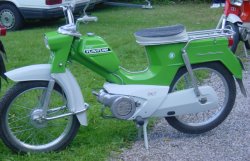 Famous Finnish Tunturi moped
Pasi Mustalahti has more on mopeds
Questions about famous Czech people
1. Who would you meet, if you went to have a beer at U Kalicha six o'clock after the war? If you really did not know, here's the answer
2. Why there is so little dialogue in Taking off, the first film Milos Forman did in the USA?. By the way, what was his last picture made in Czechoslovakia?
If you really did not know, here's the answer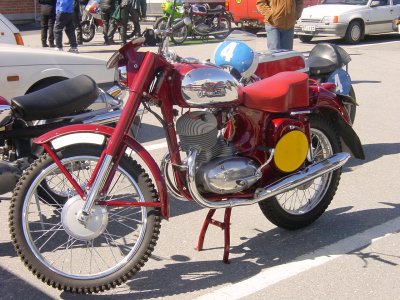 Answers
1. The Good Soldier Josef Sveik, of course. more on him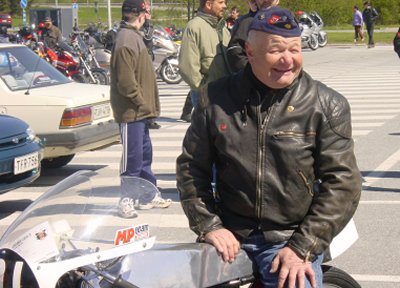 Here is Josef Svejk on a TA125.
2. Milos Forman knew so little English at that time. His other US films are .
One Flew Over the Cuckoo's Nest
Hair
Ragtime
Amadeus
Valmont
The People Vs. Larry Flynt
Man on the Moon
His last film made in Czechoslovakia was Firemen's Ball
In Czech the name is something those Finns, who enjoy Cheech & Chong
and other material in that taste, remember well. That is Hori, ma panenko.
There will be more on Jawas, later. You will also see more Jawas here.