Marcus signs factory deal
Marcus becomes the first Last Drop road racer to sign a contract with world famous Moskva factory. He will ride in the All Soviet Series on a 125 Moskva Star works bike. The contract is worth 1 zillion Soviet rubles.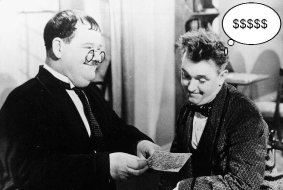 Moskva marketing manager showing Marcus
the word "zillion"

Marcus rumoured to sign mystery bike factory
More factories are competing to sign Marcus. There has been rumours of a "mystery" factory with a super potential 250 to sign him. It is yet unknown how this would affect the Moskva deal. It is highly possible that both factories concerned are working on a deal that would allow him to ride competing brands in different classes. This hasn't happened since Mike Hailwood's early career. But as we say in Finland they just have be humble and "ottaa lusikka kauniisen käteen".

What´s this bike?