June 9-10, 01, the Finnish round of Enduro World Championship
took place close to my old home and only 15-20 kms from the center
of Helsinki. Great idea to bring the race so close to city.
There were supposed to be lots of pictures here. I rode a 50cc Gilera, which could
be taken anywhere to be able to really good pictures
The route very familiar to me so it is no surprise I got lost. So only a couple of
pictures here.
Juha Salminen secured again the championship but was beaten for the first
in two years. Not only by one but two riders. Both Finns, by the way.
If for a cut chain he might have continued the winning streak.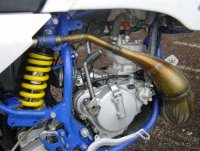 Power to the people
50 c Gilera engine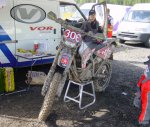 Miki Arpa's 400 cc VOR
Where's Miki Arpa?