Racers are never ready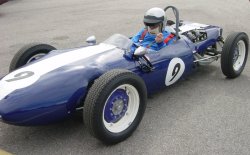 Just before the first race.
Racers are never ready. This is why we need to work on the car. As for the first season, Mr. Rolling H. himself entered two races. According to the official version, he won both times. Of course, he can be reminded of a couple of other facts, too. First, there are currently no other Formula Juniors raced in this country. As it would be quite boring for the spectators he drives with the Formula V's but as in a separate class. You could say, as he does, he is in a class of his own. The other thing that he does not want everyone to know, is that he was lapped by every one else.
So to keep up with the Formula V's something has to be done. The best solution would, of course, have some else do the driving. As Mr. H opposes this by telling that until now he has won all the races, we have decided to work on the car.
Current problems & possible solutions:
Driver too slow
Can't be helped. Schumacher is still driving for Ferrari and Häkkinen has quit.
So we decided to get more power. How, is still under consideration.
Overheating (see picture)
Another cylinder block will be purchased.
Very poor brakes
Most probably they will replaced by Renault Dauphine disks. They are consistent with the rules and should fit Renault suspension.
The very original Cooper wheels had integrated brake drums. They were about 50 years old and made of magnesium alloy, so those wheels are quite prone to disintegrating.
September 05, converting back to drum brakes. This way the car can be raced in 62-62 drum brake class.
The rear end of the car slides
This is caused by two things. One, the rear suspension swing axles had positive camber angles. The angle is only made worse when siliding. This was partly cured be re-welding the lower shock mounts.
The other problem is that the springs are much too stiff.
This means that the rear shocks should have adjustable lenght. This way we could adjust the angle.
Also, the springs have to changed.

Tarmo lifts the engine

Now, the next step is taking this apart

Not any wonder the cooling system has been losing water. See the crack.
Some improvement February 2003

Another engine has been purchased.

This is actually a 1200 cc engine, but we will use the old crank and conrods. The bore is the same

Disassembling the engine

After washing a new coat of paint. After this the block is to be rebored etc.

Rust never sleeps
But at this stage we were just testing if the disc fits.

Renault Dauphine Gordini brakes seem to fit. At least in the front.

New discs look much better

Anyone needing a pair of slightly used discs.